Bill Terry, Member of the Board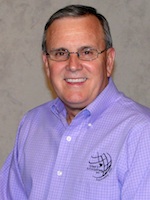 Bill Terry is the director of IPHC Men's Ministries and national coordinator of Disaster Relief USA for the International Pentecostal Holiness Church. He has more than 35 years' experience in church planting and leadership. Bill travels extensively in the U.S. and abroad, teaching, hosting seminars, and training leaders around the world. He is passionate about discipleship and has taken IPHC Men's Ministries to a new level by providing resources, training, and outreach opportunities for local men's groups.
Bill and his wife, Rita, reside in Oklahoma City, OK. They have two children and five grandchildren.